Autumn newsletter – 2022
President's Message
Dear Plotters & Friends,
Firstly, a very warm welcome to our new members: Vanda (Plot 5), Anna (Plot 19), Siannon & Zach (Plot 29), Geoffrey (Plot 35), Meagan (Plot 36), Katrina & Andrew (Plot 40), Jessica (Plot 43) and super-keen members who are volunteering for the community plots Allegra and Dominique.
After two most unfamiliar years, I'm happy to announce that the Council has confirmed that our QR code check-in is no longer necessary and that we can once again welcome friends and community groups into the garden — provided they are fully vaccinated.
This month Cooper Park Community Garden is hosting various surveys by Plant Bio Surveillance Pathologist Dr Anil Raghavendra from the Department of Primary Industries. His latest survey involves the exotic brown marmorated stink bug which is a serious pest that can affect a variety of fruit and vegetable plant species if it becomes established. Please do not disturb any bug traps or surveillance equipment which will be installed to monitor these unwanted insects.
Beautiful capture by Victoria Black
The somewhat soggy summer — compliments of a turbo-charged La Niña — has created a cornucopia of crops in the community garden. Please continue to use the red sticks to reduce any excess harvest waste. 
The ridiculous amount of rain has reinforced the need for all plot holders to remove persistent grass and weeds both in and around their plots as the situation can get out of hand after a few downpours. It has also led to a noticeable increase in the rodent population which has been devouring everyone's pumpkin crop. Since the local skulk of foxes seem to be taking a break from pest patrol, rat baits will have to be reintroduced throughout the garden. Please ensure that young children do not touch the blue pellets which will be removed as soon as the rodent problem is resolved.
I would like to thank all those enthusiastic members who have pitched in to bring our beloved green oasis up to standard during the first two working bees of 2022. The turnout has been strong as has the sense of community during the garden talks and the well-earned barbecues. The next working bee on 20 March will be coordinated by the various taskforce leaders as there will not be a talk or BBQ. The April working bee has been cancelled due to the Easter and the Anzac Day long weekends. 
The next major working bee will be on Sunday April 15 which coincides with the International Day of Families. Afterwards Virginia will be giving a talk in the amphitheatre on pest and weed control followed by our last pre-winter BBQ (lubricated with an abundance of craft beers and eclectic wines).
And finally, some food for thought: Aerodynamically a bee shouldn't be able to fly, but the bee doesn't know that, so it flies anyway.
Happy autumn planting,
Torsten Blackwood
Co-founder & President CPCG
New member Katrina started day 1 to improve her soil in plot 40
For Member Action
Message from Michelle Rose, Environmental Education Officer, Woollahra Municipal Council pertaining to renewal of the Community Garden Licence.
Please ask your garden members and other friends of the gardens to provide feedback on the Cooper Park Community Garden by Sunday 10 April 2022 using this link.
Events
Saturday 19 March, 2 to 4pm Compost Revolution's  Compost and worm farm workshop

 

–  Where: Paddington

 

Community

 

Garden

, Trumper

 

Park

, end of Quarry Street, Paddington, NSW 2021, east of Palms Tennis courts.

 

Read more.
Sunday 20 March, Taskforce Working Bees 10-12
Sunday 15th May, next Working Bee and BBQ due to Easter dates no April event.
Lisa plot 30, weeding, pruning and tidying up her overgrown plot
The Secret to a Thriving 

Garden

 Plot:
Why Organic Matter Matters
Thanks to Anna Johns for her February BBQ presentation and Susan Hely who provided these notes.
When Anna Johns, who has taken over Plot 19 at the Cooper Park Community Garden, first saw her plot she thought: "Nothing is going to grow here." 
It was a bleak assessment but as an experienced horticulturalist and landscaper Anna knew the challenge of growing in sand.
"The sandy soil is a terrible soil for growing vegetables," says Anna. 
The area from Rose Bay to Bondi was once sand dunes and low-lying swamps. It is an impoverished soil and difficult to grow a crop of vegetables because it doesn't retain moisture. 
Anna grew up in in the central west of New South Wales where the soil is fertile. There the soil was clay, helping the moisture stay in the soil.
But there are some advantages of sand, it is easy to dig, and plants don't tend to get root rot.
The Cooper Park Community Garden soil needs a lot of help to turn the sandy soil into a fertile soil and you can solve it all by feeding and building it with organic matter, says Anna. This helps build up the microbes, worms and other soil biology to work, day and night to digest the organic matter and make them available to plants. She recommends a half a metre of layers of organic matter.
"We have to work hard to recondition the soil to make it fertile if we want to grow thriving and nutritious vegetables."
Greg Vaughan Plot 7 taking a photo a before state of Anna's plot 19.
When next in the 

garden

, have a look at the difference now that Anna has been caring for the soil.
Anna shared her strategy with her fellow community gardeners at the February garden working bee and BBQ. Here is her step by step process.
Step One: Lay Down Carboard
Anna flattens thick cardboard boxes and lies them across the plot. Clamp it down with heavy watering, over and over so it softens.
Step Two: Green Matter
Next Anna puts down some cut up green plants. The woody, tall rosemary bush taking up a large chunk of Plot 19 was cut up and then laid on top of the cardboard. 
Step Three: Cow Manure
Anna bought eight bags of cow manure and spread it out roughly across the plot. "Cow manure cannot burn your plants."
Step Four: WhoFlungDung
On top Anna added three big bales of Neutrog's whoflungdung that is organically certified, retains water, is biologically active and introduces a wide range diversity of good bacteria to the soil from the inoculated chicken manure
Step Five: Grow Cover Crops
Anna likes lupin seed for green manure. She puts them in and grows a green crop before planting vegetables and other crops. She leaves it to break down in the soil providing nutrients and other benefits.
Step Six: Lucerne Hay
Anna likes Lucerne Hay because it fixes the nitrogen. She spreads a good two inches on top of the manures, green crop and cardboard. The mulch retains the moisture and cools the soil.
Step Seven: More Cardboard
Then Anna spreads another lot of cardboard which she says, thickly spread, "will kill just about any weed trying to get through." As it cuts out the light.
Step Eight: More Cow Manure and Compost
Anna recommends at least three to four inches of organic matter that is rich in nutrients that will drip feed to your plants and increase the pH of acidic sandy soils.
Step Nine: More Mulch
Anna says ideally the plots need half a metre of organic matter
Step Ten: Bentonite 
Anna likes to add some Richgro Betonite Natural Sand to Soil. It is a blend of minerals including bentonite clay, which has the capacity to hold water and nutrients. 
Step Eleven: Coir
Anna also likes coir peat block and Martins Premium Planting Compost. She waters them  to make them spongey.
Anna does not approve of wetting agents and slow release foods as they are pellets coated in plastic or resin. "I don't want plastic in the garden."
Step Twelve: Biochar
Anna is a big fan of biochar which she describes as an enabler and preserver of soil health. She says it is like a housing complex for microbes. Biochar's tubular structure, draws in water and nutrients through its capillary action. But biochar is expensive, says Anna, but you don't need much. A 3.5 litre Biochar container with zeolite costs $22 from Bunnings. 
Step Thirteen: Drop In the Seedlings
Anna likes to germinate seeds at home and bring them to the garden when they are several inches high.
Step Fourteen: Water Deeply.
It is important to water our plots deeply, not every day, says Anna. "Watering lightly on sand is a complete waste of resources."
Deep watering also encourages plants to extend their roots, so they are strong, she says. Such layering gives sand a structure and makes it friable, says Anna. 
"I think about what my plants would like. I would like it to be nutritious, so it is really good for my health. We can grow fabulous vegetables, but we have to do lots."
Meet Victoria Black (plot 49)
My name is Victoria and I am responsible for Plot 49. I have had my plot for about 18 months and I am still a novice veggie grower. 
I now live in an apartment so what I can grow in my outdoor space at home is quite limited although I have olive, cumquat, lemon and lime trees and assorted herbs growing. This means my community garden plot means a lot to me as it is the only space where I can grow vegetables.
The first thing I did when I got my plot was to try to improve the sandy soil by adding many bags of compost and cow manure. This is a continual process as the soil just swallows the improved material. I also lightly mulch my plot with sugarcane mulch.
My initial attempt at growing vegetables was a disappointing failure as I was too ambitious, and I also underestimated how much watering I needed to do. My second and subsequent attempts have been successful and I now have more belief and understanding of what I am doing. My most successful crops have been snow peas (not many made it home as they are so sweet straight off the vine), beetroot, leeks and lettuce. I grow different types of lettuce all year round. I am trying my hand at capsicum and eggplant.
The greatest pleasure in growing vegetable for me is the is the sharing of the produce. It is so satisfying to drop off freshly harvested vegetables to my family and friends on the way home from the garden. I just love it! I am looking forward to many seasons to come and some wonderful sharing and eating.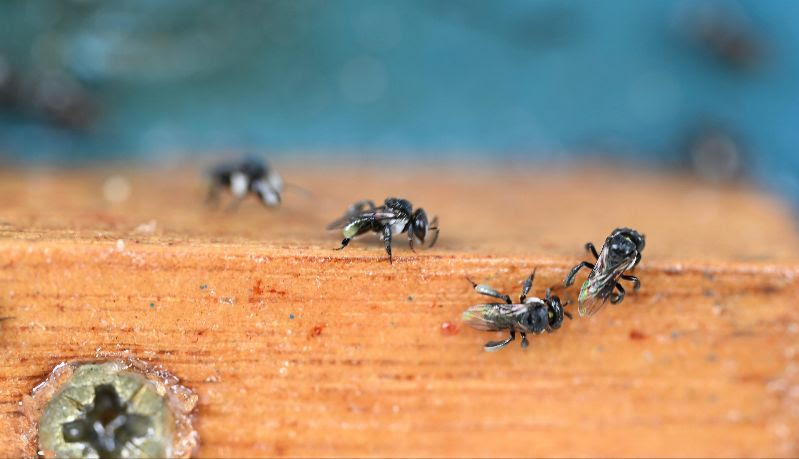 Our busy native bee's. Photograph by Victoria Black
Weeds
Weeds became a real problem last year when some gardeners neglected their plots and neighbouring gardeners bore the brunt. This year everyone needs to manage their garden beds and surrounding pathway area regularly.
If a garden bed looks as if it has not been tended or maintained, the Committee will give the Member notice to regularly maintain their garden bed or relinquish it. Refer to the CPCG Members' User Agreement (Rules).
Remove weeds as soon as they appear and don't let them go to seed.
If you have weeds going to seed remove seed heads immediately.
Put all weeds in the green Council bin only.
Mulch blocks the light and reduces weeds so spread on the cardboard, newspaper and sugar cane mulch to about 4cm deep. The mulch will create a weed suffocating blanket and provide nutrients as it decomposes.
A knife is a handy tool to dig deep for weeds with a tap root – but be sure to take the knife home with you.
If you get onion weed, this is a real problem as it is hard to remove – you need to dig deep and take out the soil with the root bulbs. See Virginia Pearce to arrange eradication if this is a problem in your plot.
Cosmos, nasturtiums and marigolds have become so entrenched in the garden they need to be managed as a potential weed.
Here are recent photos of weeds growing prolifically in the garden. Dig these out when you see them anywhere in the garden.
Living with Covid
We have tried to protect our members by requiring all to be fully vaccinated. However, we still need to be prepared.
On 14 March there were over 10,000 new COVID-19 cases recorded in the previous 24 hours in NSW and on 10 March Health Minister Brad Hazzard reported on the Covid BA.2 sub-variant, thought to be a more infectious Omicron offshoot.
Mr Hazzard said: "It's very preliminary and we need to do a lot more digging … but we are concerned at this point that BA.2 is amongst us and overtaking BA1." 
We have a lot more digging to do in our gardens so with this in mind I talked to a couple of recent Covid isolators and got some tips for fellow gardeners who want to be prepared ahead of time for isolation.
Note these tips are based on the experiences of Covid patients not Covid experts. NSW Health provides a number of factsheets to assist. The notes below are the nitty gritty everyday stuff that people found they didn't have information on.
Tip 1 Watch these videos by Dr Sandhya Ramanathan, a New Zealand GP
https://www.youtube.com/watch?v=O7anWQ_-gO4
https://www.youtube.com/watch?v=2ZoBb-ngk5k
Tip 2 Fresh air is your friend
Even if it is cold, get into the habit of opening windows and doors to maximise airflow. You can purchase air purifiers, but nothing beats fresh air and its cheap.
Tip 3 Investigate the use of vitamins (C, D And Zinc) and kefir to boast immunity.
Tip 4 The shopping list (based on video 2 above and Cooper Park gardener input):
Chemist
Oxometer – measures oxygen levels in the blood very reassuring when you first get Covid and test everyday (but only if the reading is over 95% – if you get to 95 NSW Health advises to call 000 to arrange or a Covid assessment team)
N95 Masks – you will be wearing these whenever you leave your isolation space to go to the bathroom
Panadol or paracetamol product for headache and fever – if needed
Betadine throat gargle – used with nasal wash as per video 2
Saline nasal wash bottle
Hydrolyte or similar product to aid hydration
Vitamins D and C and Zinc to build immunity before and after Covid infection.
Cleaning aisle of supermarket
Milton baby bottle disinfecting product for eating utensils
Bleach
Glen 20
Gloves 
Buckets or small tubs for soaking dishes in Milton – into the Milton and straight to the dishwasher. When isolating, you can keep this outside your door for the attention of other household members who should wear gloves when dealing with your washing up.
Bags for waste
Cleaning cloths 
Hand sanitiser
 Miscellaneous
Tissues or handkerchiefs
Cotton totes for washing bags – wash at 60 degrees to kill virus
Bottles of water
One member who has isolated with her son who has had Covid twice, suggests a bottle of gin as another essential item, but this is not recommended by health officials for Covid patients or their long-suffering isolating family members.
Tip 5 A space to isolate
Set up a room or space in your house where you can be away from other household members. 
If you share a bathroom with other household members, you will need to clean all surfaces touched each time you use the bathroom. For this scenario, clear everything off the vanity and set up a cleaning station with hospital grade cleaner – read NSW Heath info.
Various suggestions include wash with hot soapy water (like sunlight soap) and then spray and leave to dry a suitable hospital grade commercial cleaner or bleach diluted with water (four teaspoons of bleach per one litre of water), or methylated spirits which evaporates quickly. Please check: 
Hygiene at home – Fact sheets – NSW Health info
Tip 6 The freezer
Try to have 7 days' worth of soup/plain meals in the freezer. If you are isolating with a person who does not have Covid it is better to avoid the kitchen/food preparation area and leave it free for the non-infected person/people in the household.
Tip 7 Have good friends and neighbours who can help – from a distance. 
Ask someone at Cooper Park to look after your garden if you think it will need watering or looking after while you are in isolation.
Read or Watch
Gardening Australia has a vast selection of fact sheets and information for all gardeners, no matter what their experience. Factsheets from Gardening Australia. A very handy one for those just starting out is
Where to begin by Jane is designed for new gardeners.
Shop
Liquid Fertiliser recommended by Inés plot 18 – Swiftgrow
Order online or available from nurseries.